Long Leash Dog Training: The Recall 19/06/10
What are the benefits of long leash dog training? I will run through the benefits of using a long leash for your dog and how to implement some simple dog training techniques to get your dog responding to you.
---
Long Leash Dog Training: The Recall
Long leash dog training can be a brilliant way of enhancing all of your dog's responses in a positive and safe way.  They allow your dog to perform natural behaviours whilst being under constant control.  In this article I will run through positive dog training techniques that will help with improving your dogs recall and breaking some of those bad habits when out on walks.
The long leash itself
You need to buy a leash that is long enough for your dog to be able to exhibit natural behaviour, but also a leash that is manageable for you not to become entangled in.  Buy a leash that is thick and strong, as thin leads can burn your hands if you reach out to grab it and extending leashes can cause injuries, especially if you have a strong dog that could potentially snap the thin wire.  Extending leashes can be a fantastic tool for you to have in your dog training kit, but your dog must learn to walk nicely on the leash before you begin using it.  Personally I opt for a leash that is about ten feet long, as this is a manageable length and when my dog's are off leash I do not want them wandering further than as it lessens their response to any cues I may be giving them.  The closer your dog remains the higher level of control and responsiveness you will achieve.
Always keep the long leash loose, as if it is not attached your dog at all.  This is the response that we are looking for as they will exhibit natural behaviours whilst you are able to prevent unwanted darting off or eating of unhygienic items, as dogs love to do! Yuck.  You can also tie the long leash to your belt which will stop you from putting unnecessary tension on the leash.
Recall – making the connection
I adore using  long leashes for recall.  They give you the security that your dog is safe and also act as an effective tool for ensuring your dog responds every time you call their name.  This is used as the precursor to letting your dog off leash and it is vital that you use this before risking letting your dog run free.  I love to use the whistle at feeding times, further details of how to do this can be seen in my article on teaching the recall.  It's a method that I picked up whilst training guide dogs for the blind, which basically uses classical conditioning to make the link between a whistle being blown and their food.  Therefore, when you are out and about and blow the whistle your dog will come bounding back to you, expecting food – just make sure you can deliver as to not weaken the link between whistling and food.
Attaching the long leash and rewarding
Any way back to the long leash.  When you are out on your daily walk with your dog or puppy use a short leash for getting to your destination.  Long leashes are not a good idea when walking near roads etc.  Once you are at the park, for example, blow your whistle (or if you are not using this method say your dog's name) and reward with an especially tasty treat like hot dog or cheese.  Something smelly always works a charm, and your dog will be aware that you currently in possession of the tastiest treat known to dog kind!  You can now attach the long leash to your dog and continue on your walk.  Do not make a big fuss of the leash switch over, as you want your dog to act as it would off-leash.  Continue to use the odd whistle here and there rewarding your dog and lavishing it will praise.  When I say lavish, I am talking about a good ten second fuss.  This will help improve the bond you have with your dog and make coming back to you a real treat.  I like to ask my dogs for a 'sit' when they return as I feel this gives me more control.  With assistance dogs we actually get them to target your leg by nudging it with their nose, which is also useful as you  do not want your dog running back, pinching a treat and running off again.
When your dog doesn't respond to the recall
Now this is where the long leash really comes into it's own.  If your dog or puppy does not respond to the recall try not to get frustrated, I know it's easier said than done, but simply reel them in gently with the long leash and make a fuss when they come back to you.  By having the long leash attached it is not a hassle that your dog is not responding immediately.
It is important to grade the response and reward accordingly.  What I mean by this, is that if you call your puppies name and they come bounding over then give them a couple of treats and huge fuss.  If they do not respond until the second or third call or finish what they are doing before returning to you, play down the reward a little. However, you must still make sure you still give them their piece of hot dog and praise them, in order to reinforce the fact that they responded.  By doing this you are making it clear to your dog that a quick response will reap the highest reward, the response will be 'I better get back quickly so I can get the jackpot'.
Stopping bad habits out on walks
You can also use it for interrupting unwanted behaviours such as scavenging food in the park or being over excitable with other dogs and people.  All you need to do when you spot your dog doing something that you or a member or the general public don't like is to say 'no' in a firm tone and the gently reel your puppy or dog towards you.  The benefit of this tool is that you do not have to run over your dog to wrestle whatever piece of rubbish they have acquired or add excitability to the situation when your dog is being overly sociable with another dog.  We have all had those embarrassing experiences of our dogs sniffing another dogs rear end a little too firmly or picking up some kind of rubbish, but with the long leash this will not be a problem.  Your dog will learn that you are under control at all times and when you eventually remove the leash a firm no should have them walking away from the item by themselves, which you then reward by treating.
Retractable long leashes
Once you have established that your dog or puppy is well behaved on leash and not going to drag you about or bolt you can move onto a retractable leash.  They come in all shapes and sizes according to your dogs size but are generally pretty standard across the board.  One thing I would say is go for a tape one, this is because, if the worst should happen and the leash snapped you would not be at risk of a painful thin line retracting towards you.  Also if your dog does become entangled the tape will not be painful or dig in, unlike wire leashes.
Buying a long leash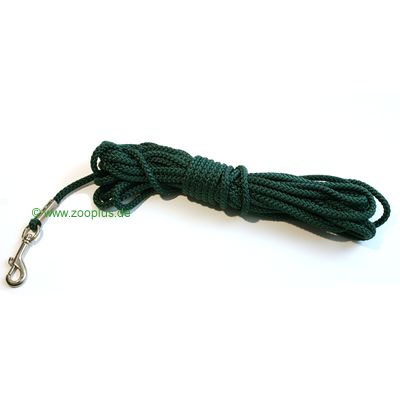 Long leashes are generally pretty cheap, which is always handy.  There is no need for you to spend on an extravagant long leash as these are a temporary tool to help you out.  I would say going for something simple, strong and light is the way to go as you will be carrying it the park or beach etc. with you.
Zooplus are currently offering long leashes at – 5 m long, 6 mm wide
Buying a retractable long leash
Unlike the long leash it is worth purchasing the highest quality retractable long leash you can afford.  This is generally because they are a lot stronger and the mechanisms are less likely to fail in a quality product.  Shop around and find something that is perfect for your dog's size. Personally I tend to use the flexi brand but it's all about personal preference.  You can purchase well priced retractable long leashes here -
Flexi Long 3 Retractable TAPE Leash for Dogs
or pop down to your local pet store to view their ranges.
This is part one in the long leash series so subscribe to news feed, or get in touch just to chat or with any questions or problems you may be having by commenting or following me on twitter @teachingpuppies.
---